How to Choose Your Kitchen Worktop – In a Nutshell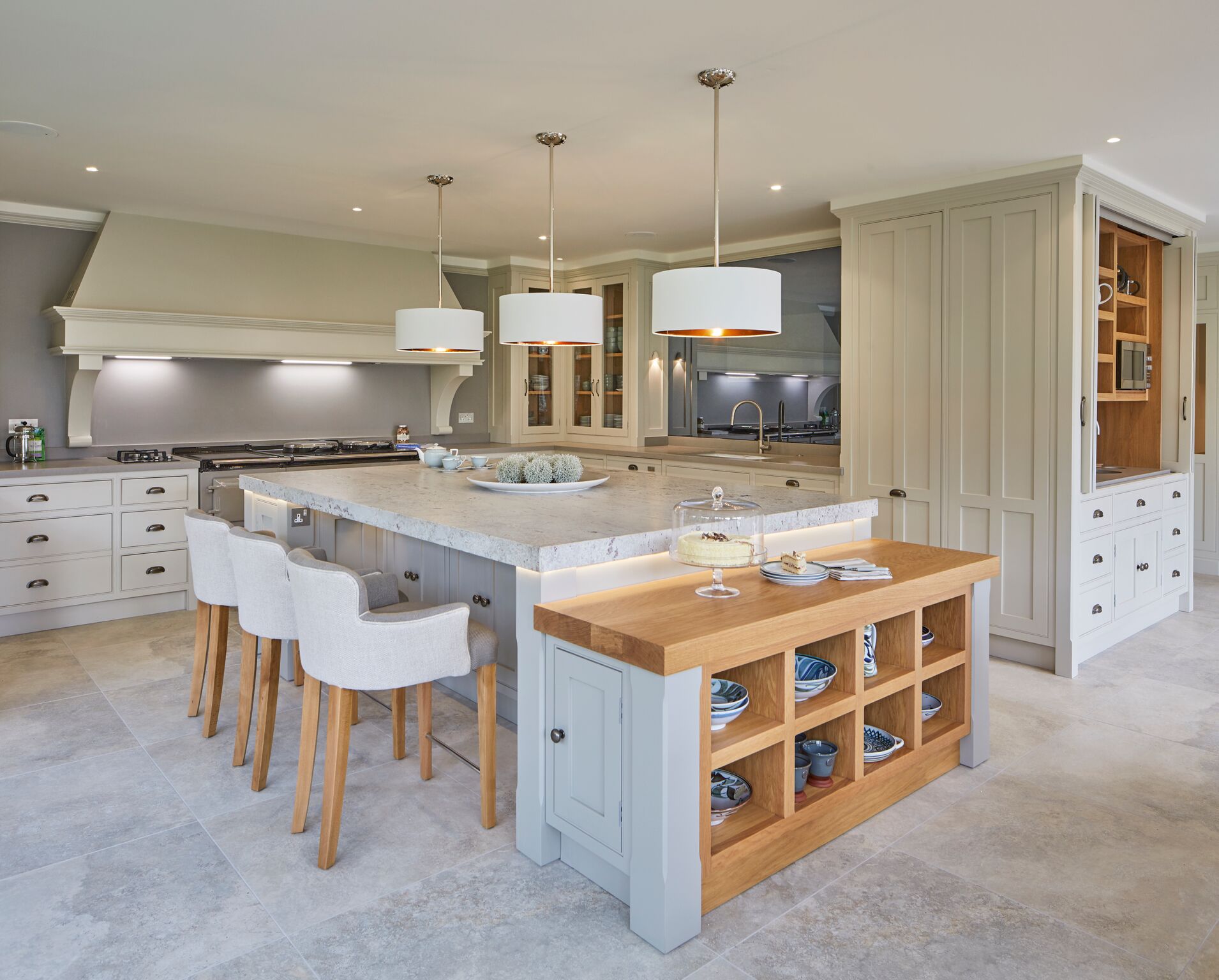 So let's be honest straight away. No matter how many people you talk to or blogs you read and no matter how much research you do, choosing a worktop for your kitchen will ultimately be done on impulse.  It will be love at first sight!  You HAVE to have THAT in your kitchen because it looks amazing with the Farrow and Ball grey tones or it contrasts beautifully with your stone floor or because it makes a beautiful background for your Instagram photos.  You want to choose it because you love it no matter how costly or impractical. It's how we choose our shoes and for the same reason its how you will choose your kitchen. Right?
Ok, now we've said that, let's get sensible. Your kitchen is a big investment.  It is going to be with you and your family for many years to come so it pays to make an informed decision in order to make sure that you not only love the look of your kitchen worktop,  but also that it's a perfect fit for you and your lifestyle too.  We understand that your kitchen is the heart of your home and, like your shoes, you will likely be spending a great deal of your time in it so you want to feel fabulous about it!  Imagine a pair of Jimmy Choos so comfortable, you'd want to wear them every day!  
Best advice tells us not to go home with the first shiny bit of marble that catches our eye.  The team at Griggs & Mackay would like to help you make an informed decision.  So, in order to ensure you shop with prudence, I have paid a visit to three of our most respected experts in the trade, our friends at Classico Marble Stonemasons,  AF Jones Stonnemasons, and of course our very own John Mackay, kitchen designer and founder of Griggs & Mackay, a man who is the authority on working with wood.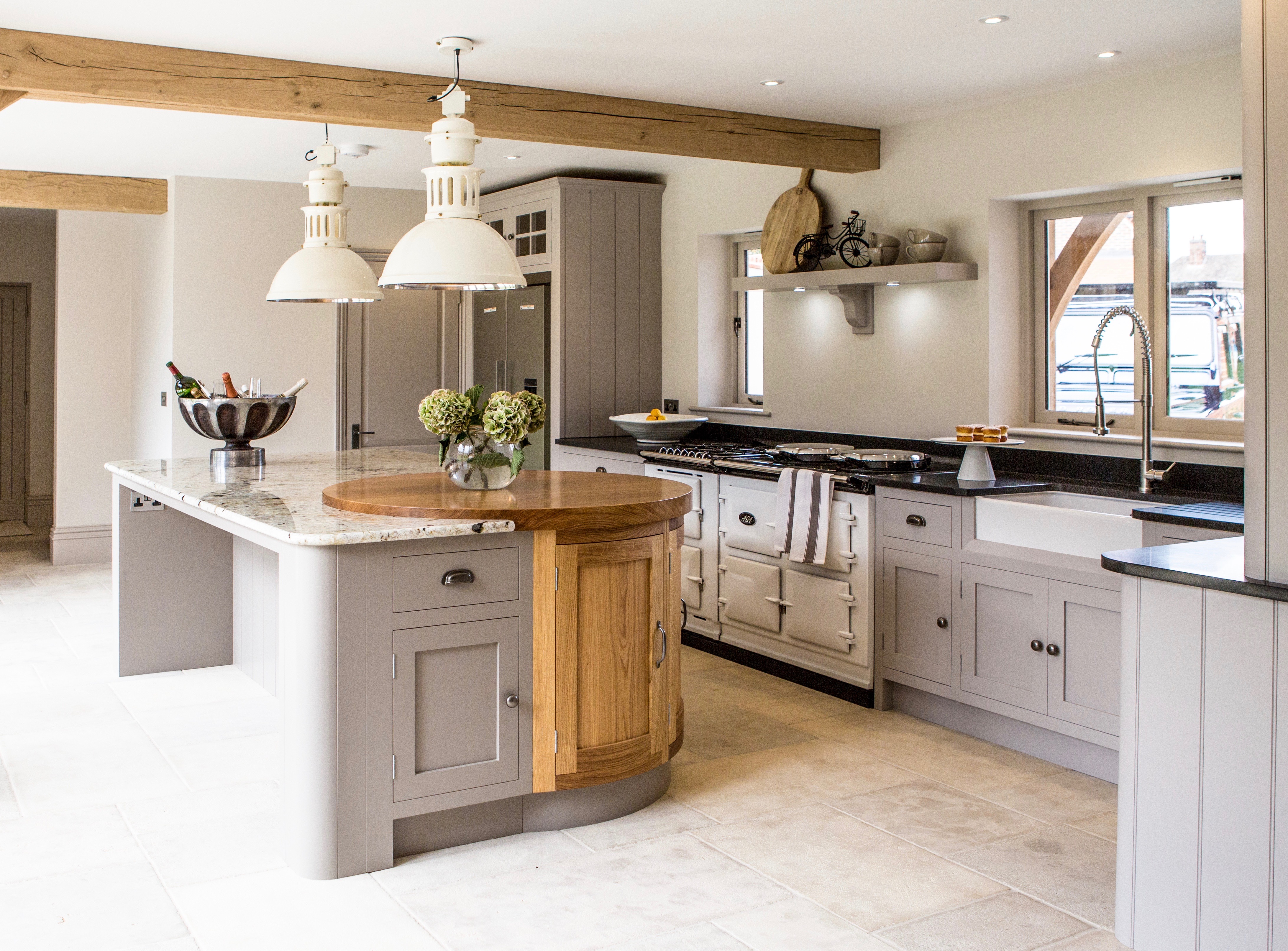 I've discovered a few surprising things you may not know about choosing a material for your worktop and outlined the facts below along, with some important questions you will want to ask your kitchen designer.
Where to Start
Obviously you will first consider how you use your kitchen as this may impact what materials you gravitate towards. Will you be preparing Master Chef class pastries and regularly boiling up your infamous bouillabaisse on the stove top?  In this case a cold surface such as the ever more popular and trendy stainless steel which is easy to sterilise might be your perfect match. 
Or perhaps in your kitchen you are surrounded by toddlers banging sippy cups the counter top like a scene from The Shawshank Redemption, in which case you will require something more resistant to scratching and also those red wine stains, such as a hard wearing quartz.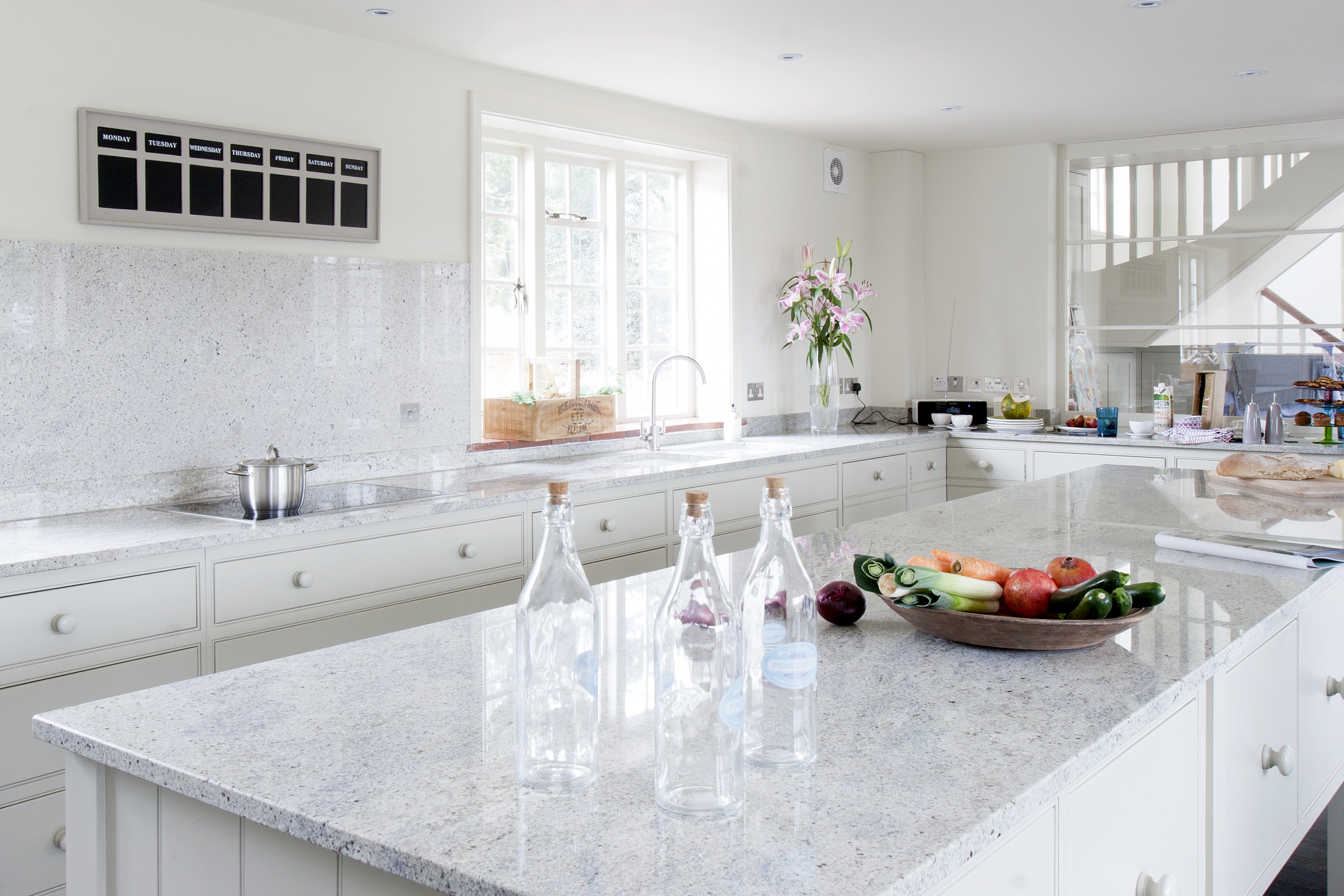 If you are planning a large island to seat eight people you may need to put more weight on the cost of your choice of surface. While marble and granite are beautiful, they are alas, like any one of the Kardashians, rather more expensive the larger they become.  
Maybe you don't spend much time your kitchen or are you possibly the type to even use some of the cupboards to store your wooly winter jumpers?  You might love a wooden surface which creates a warm, natural and inviting feeling and could be a great choice for you if you are willing to give it that little bit of TLC that it requires.
The following reference should help to guide you through the decision making process.  I've even added a few questions you will want to ask your kitchen designer about each material.
---
Marble
Marble is a natural stone that can make a stunning feature of a luxury, statement kitchen.  It is smooth and glossy and completely unique to your kitchen, as the marbled colours and swirls are naturally occurring so no two counter tops will ever be exactly the same.  On this note, you could be in for a surprise because the sample of marble you are shown in the design studio is not the exact slab of stone that will appear as your worktop.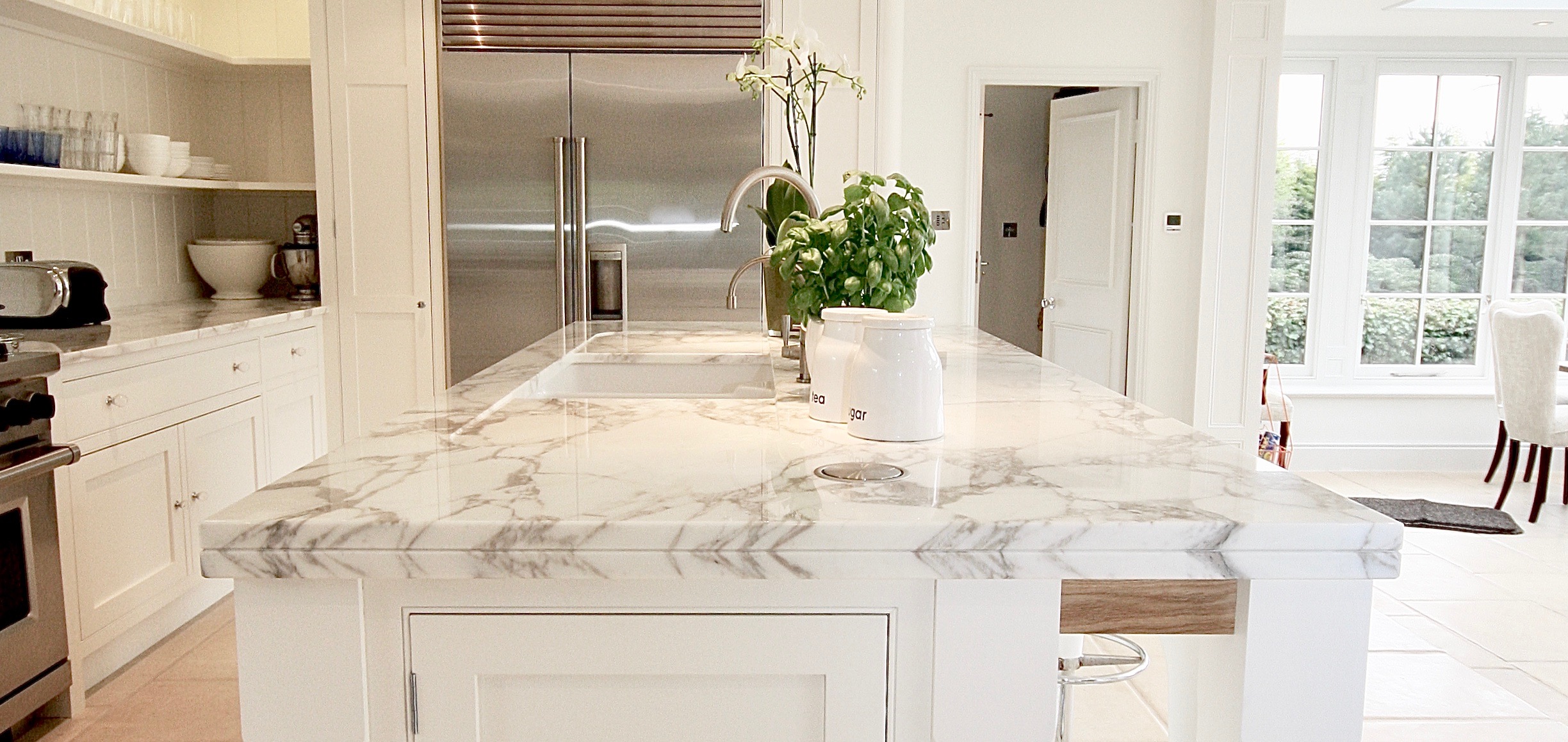 So if you fall in love with a certain marble swirl or pattern, ask your kitchen designer if what you are seeing is the exact piece of stone that your worktop will be made from and whether they can show you exactly where that marble pattern will appear on your worktop. John Mackay, Kitchen Designer and Founder of Griggs & Mackay, will take you, the client, to the import depot where you can choose the very slab of marble that will be cut to make your worktop.  John regularly works with stonemasons at Classico Marble, where they use specialised digital software to show you exactly how your slab of marble (or granite) will be mapped out on your worktop, so you can see exactly how it will look in your kitchen.
The Marble Nutshell
Luxurious look for your statement kitchen
Soft, so easy to carve in deep grooves and custom curves with a seamless smooth effect
Porous, so more prone to stains and scratching than ceramic or quartz
Poor heat resistance; cannot place hot pots onto it directly from the stove top or oven; requires a trivet
Usually more expensive than other materials
Usually requires special marble top cleaners
Marble may make a better choice for a low-traffic area such as a pantry, rather than a worktop
Ask your kitchen designer if you can see the actual piece of marble that will make up your worktop 
---
Granite
Granite is also a very hardwearing beautiful natural stone with fine flecks of natural colour throughout and makes a beautiful choice for a busy family kitchen.  It is the hands down winner over marble as it is stain and chip resistant, and also extremely heat resistant so you can set those hot pans directly onto a granite surface.  Our friends at stonemasons Af Jones have shown us how granite and other stone can be finished in a variety of different ways.  So if a super gloss finish is not your style, granite can also be honed to a matte finish or a more unique, rougher anticato finish.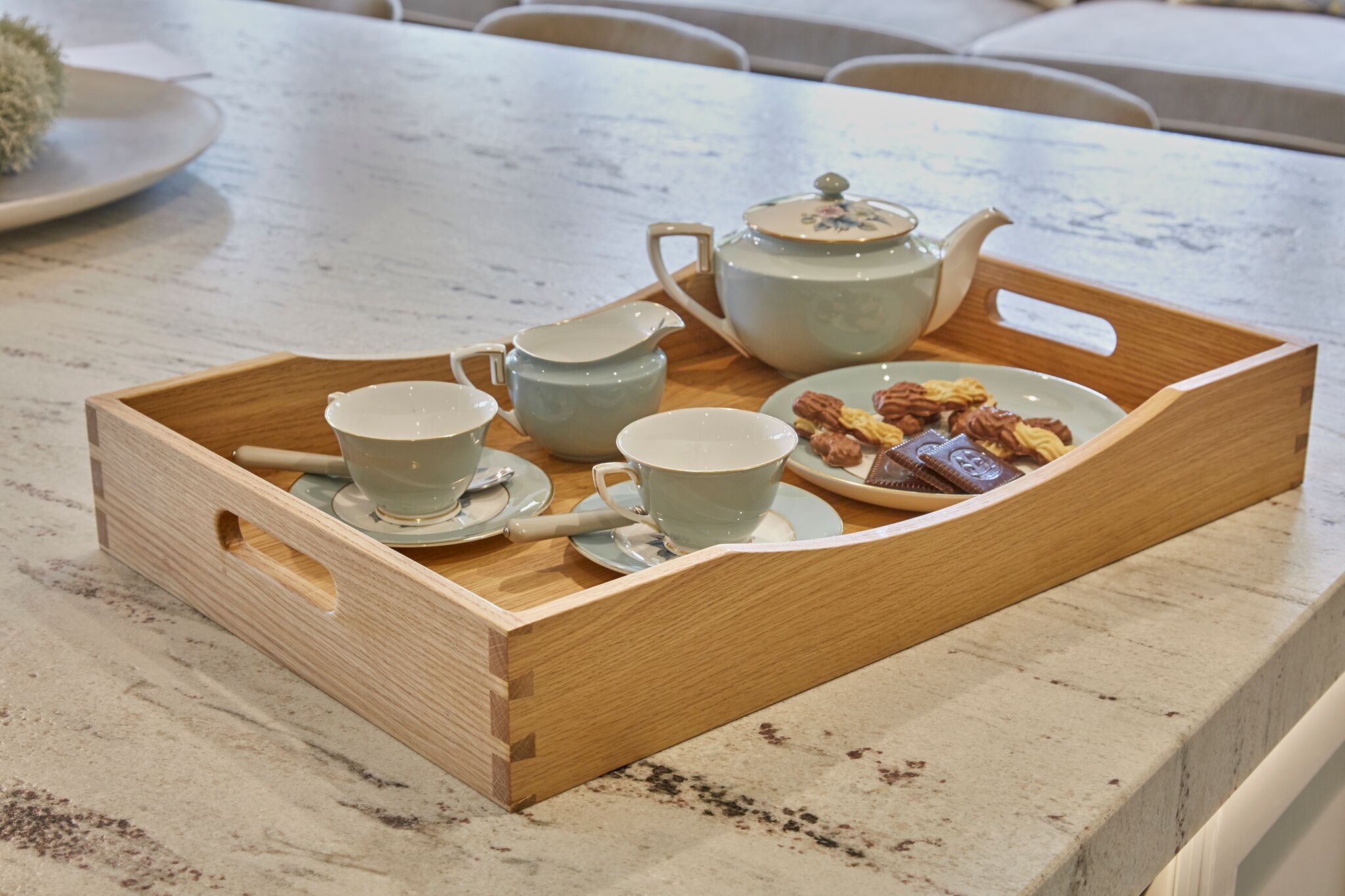 The Granite Nutshell
Beautiful, natural stone for a glossy finish in a statement kitchen
Heat, stain and scratch resistant
Low maintenance 
Anti Bacterial
Easy to clean
Usually less costly than marble, but more costly than other materials
Ask your kitchen designer about alternative finishes available such as polished, anticato and honed granite
---
Quartz
Quartz is a material made from a mixture of finely ground stone and a man-made resin, therefore non-porous.  It is manufactured to have a natural stone look similar to marble or granite, but at an equal cost to marble and granite.  Because it is man made, it generally has a more uniform look than natural stone, so you can be assured that what you see in the showroom is what you will get in your kitchen.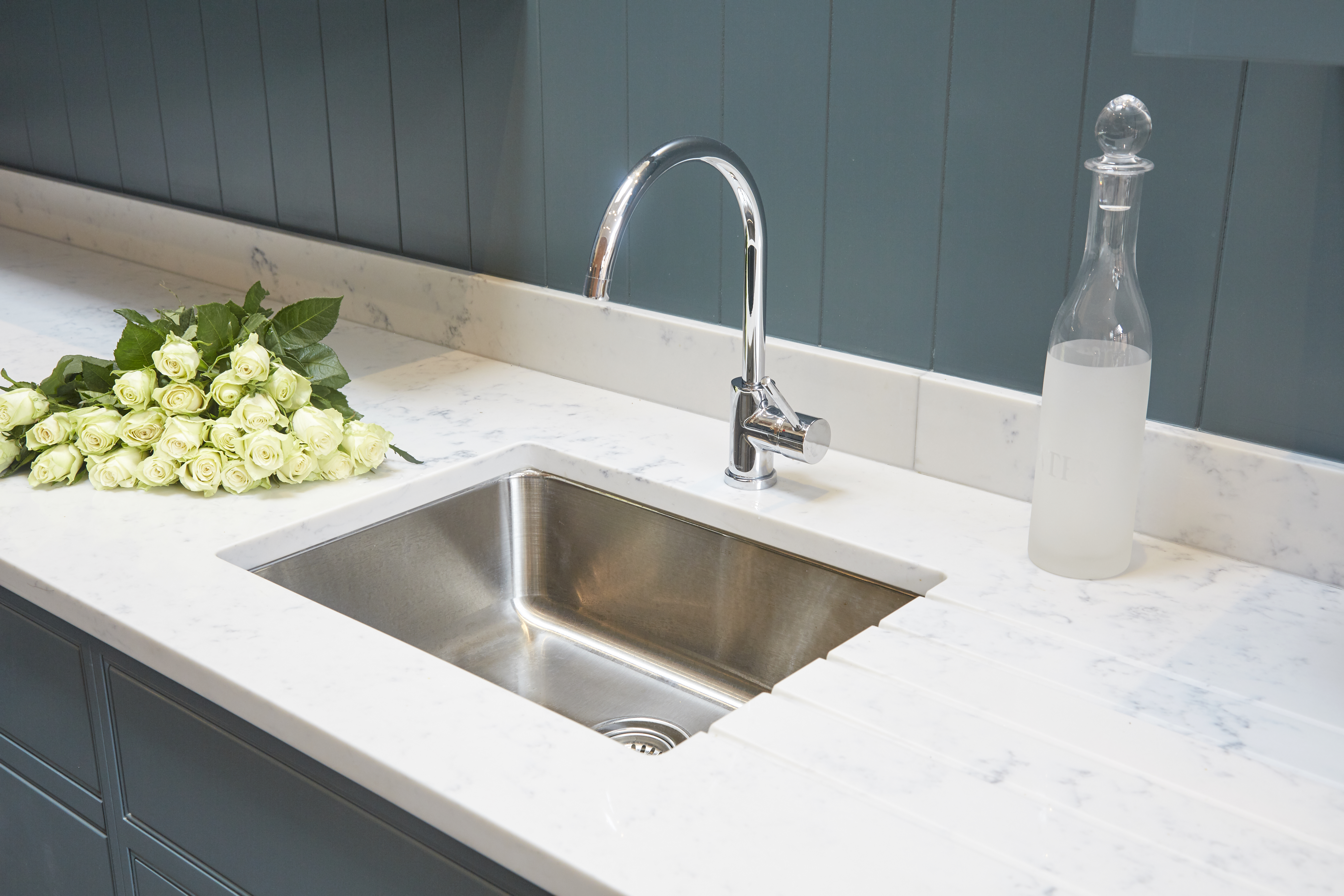 Ask your kitchen designer where the quartz for your kitchen is sourced. At Griggs & Mackay, we regularly work with Classico Marble who only source quartz made with resin that is approved for use in contact with food.  Quartz is extremely durable and even less prone to scratching and chipping than granite. It is however, less heat resistant so you wouldn't be able to set hot pots directly onto it.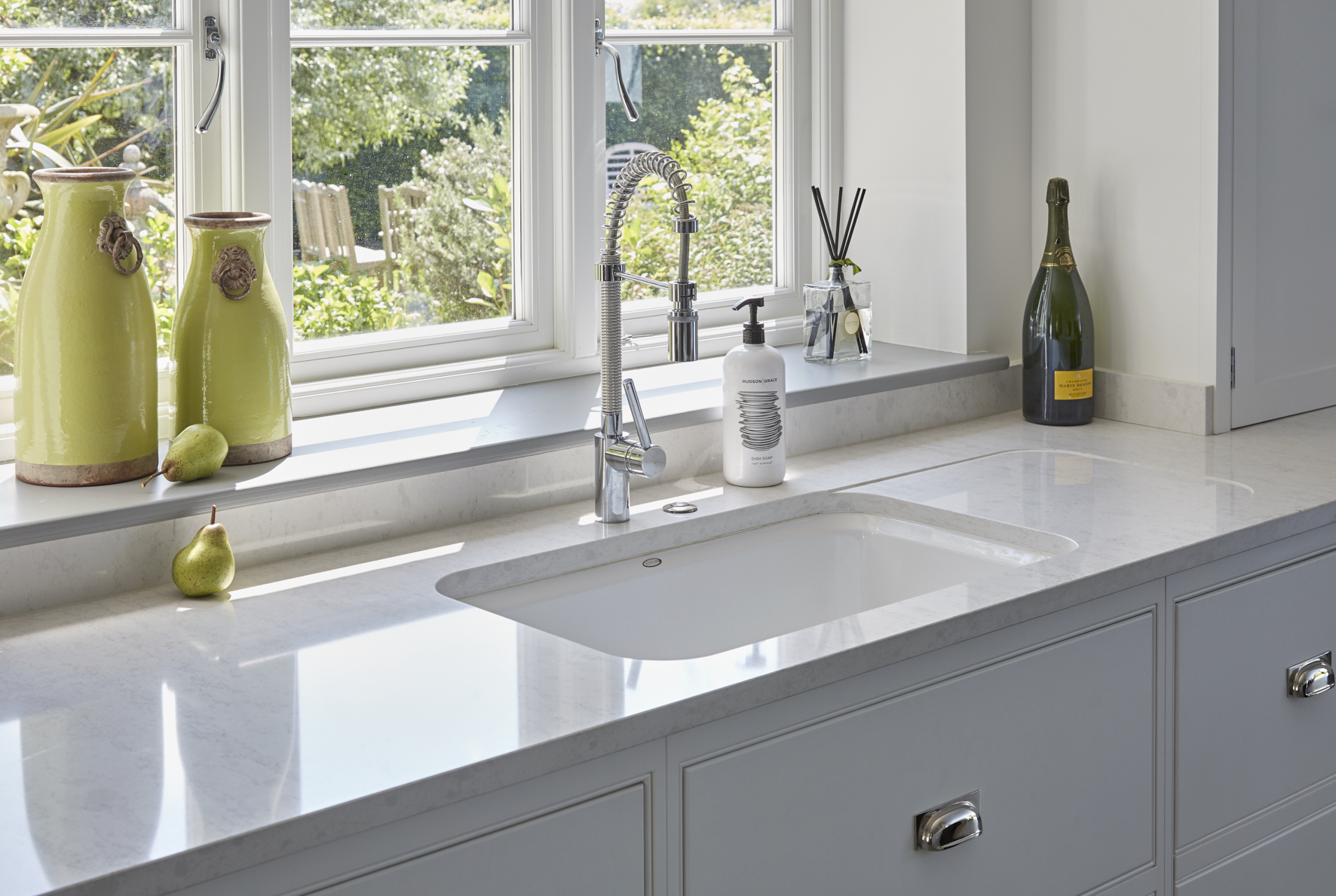 The Quartz Nutshell
Man-made material with a natural stone look
Durable and extremely scratch and stain resistant
Similar cost to natural stone like marble or granite
Easy to clean and virtually maintenance free
Poor heat resistance; cannot set hot pots directly onto a quartz surface 
Available in uniform colours for a modern look if you are going for that all white kitchen or simply want seamless colour for a custom design
Ask your kitchen designer where the quartz is sourced and whether it is certified food safe
---
Stainless Steel
Stainless steel offers that industrial vibe that is very on trend at the moment.  If the restaurant kitchen style is your game, then it could be perfect for you!  It is very hygienic and easy to clean with a soft cloth and soapy water.   Harsh chemicals such as bleach can cause discolouration.  Treating it occasionally to an oil rub down will help maintain its shine. It is impervious to water and while it is heat resistant, you would want to use trivets for hot pots.  It is prone to scratches, however many feel that this simply adds a well worn charm to it.
Stainless steel is a cold surface choice, so you may want to consider whether you would want to use it for an island where seated guests may be resting their elbows against it.  Custom designs can be cut from a long single sheet of stainless steel for a seamless look.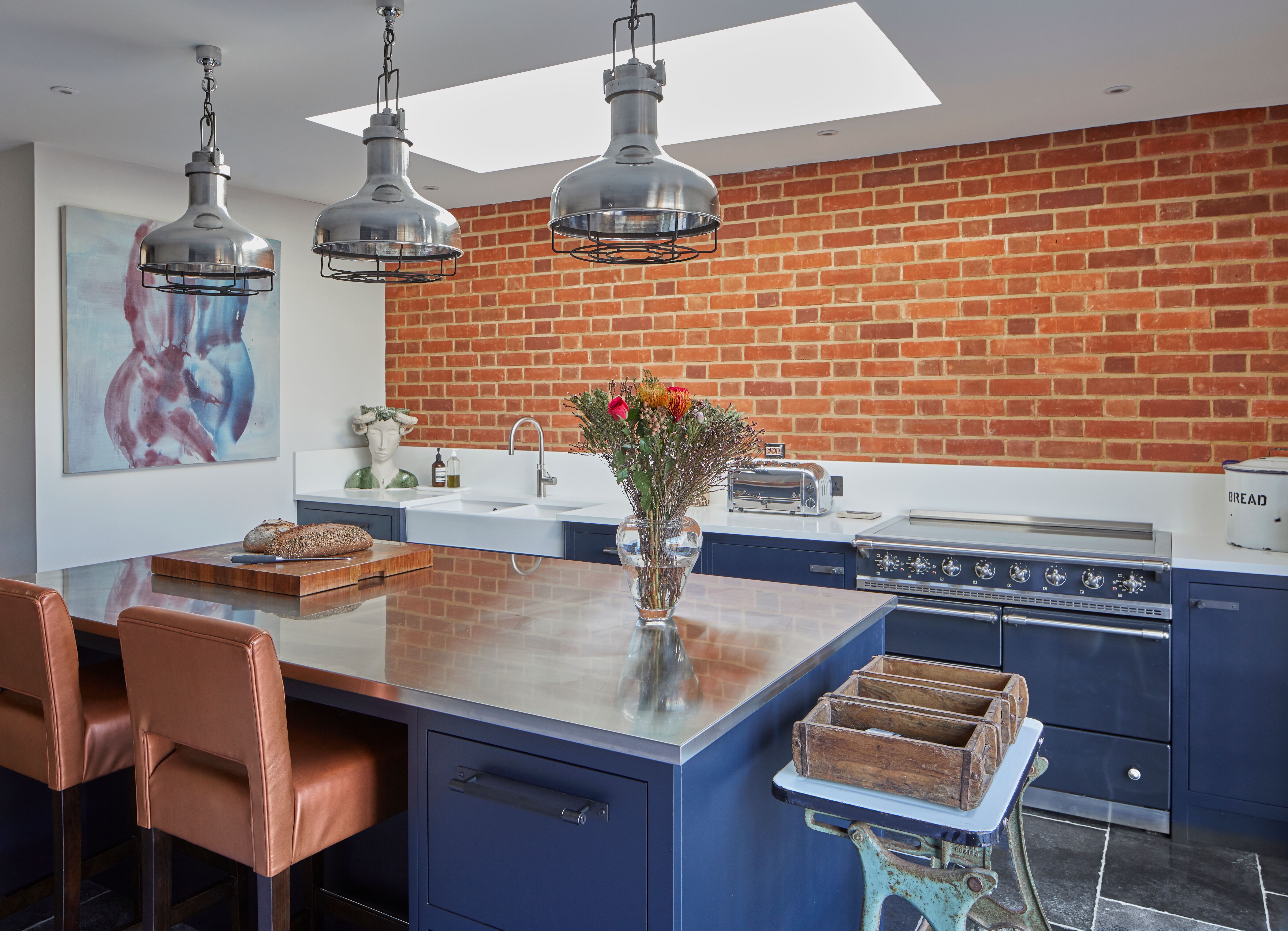 The Stainless Steel Nutshell
Done well, it can end up costing more than granite or marble
Very hygienic and easy to clean
Prone to scratches but you may welcome these!
A cold surface, so perhaps not the best choice for a seating area at an island
Ask your kitchen designer about the versatility of stainless steel in your custom design
---
Wood
Wood is an extremely beautiful and versatile material for a statement kitchen worktop and often overlooked.  The natural look and texture of wood creates a very warm and inviting atmosphere.  It can easily be worked into luxurious curves and custom designs.   For the more luxurious look, choose maple, walnut or iroko.  Iroko is a very hardwearing wood and when sealed and maintained well, is very hygienic.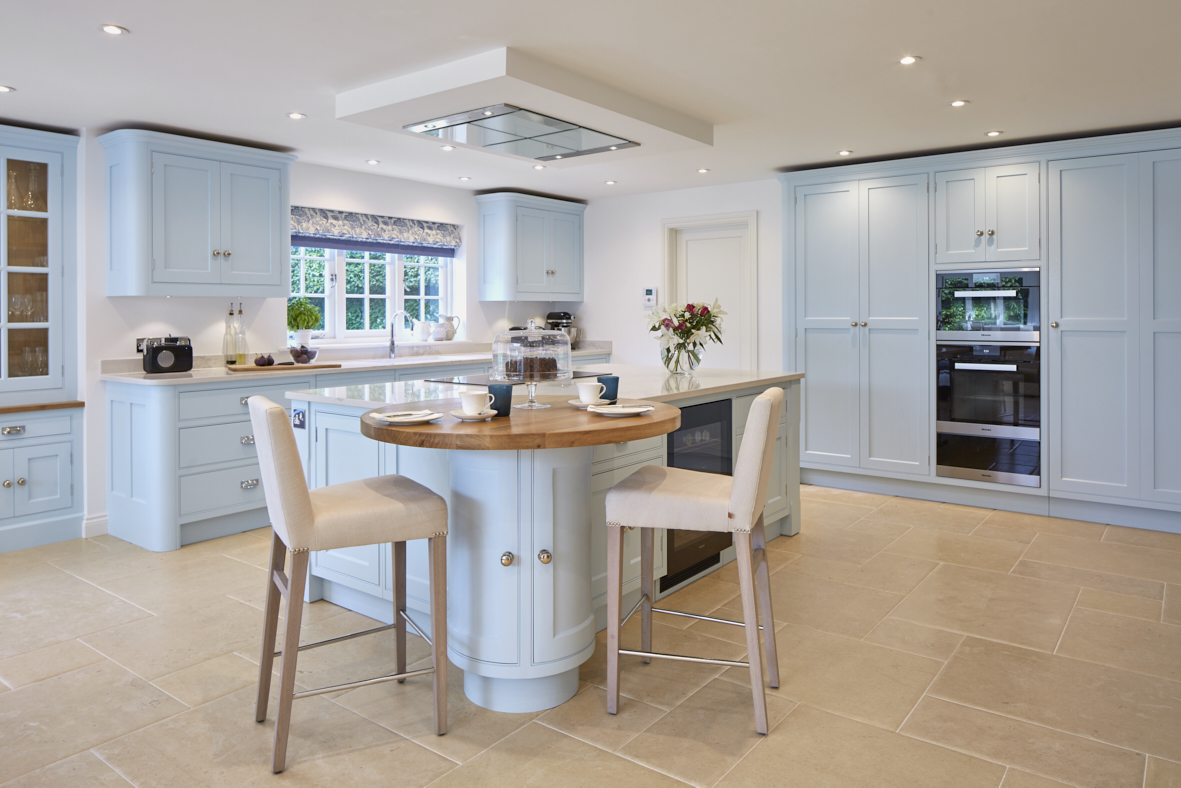 A certain amount of maintenance is required to keep the quality appearance of a wooden worktop however, as bright sunlight can fade the colour and excess exposure to water can lead to mould and discolouration.  Oiling the worktop twice a year or so and wiping away water or spills as soon as they appear should ensure it maintains its quality finish.  Another benefit of wood is that any scratches or stains that do occur can easily be sanded down and refinished.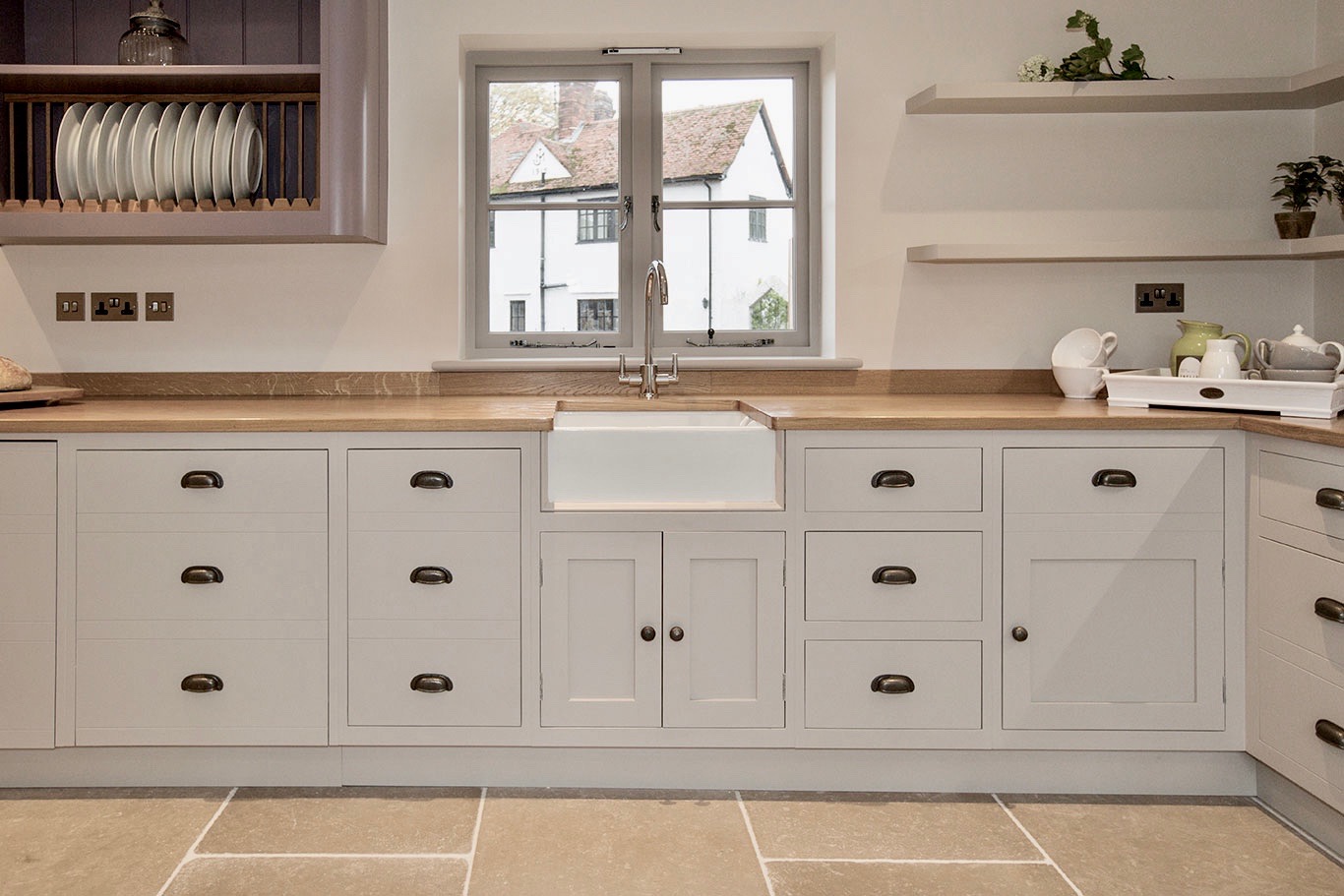 John at Griggs & Mackay loves working with wood as it is so versatile and therefore lends itself beautifully to custom designs.  Unique wood grains can truly be a feature to be admired and finishes can range from raw, live edges to a polished finish.  The wooden island top is extremely popular as it creates a warm, inviting atmosphere.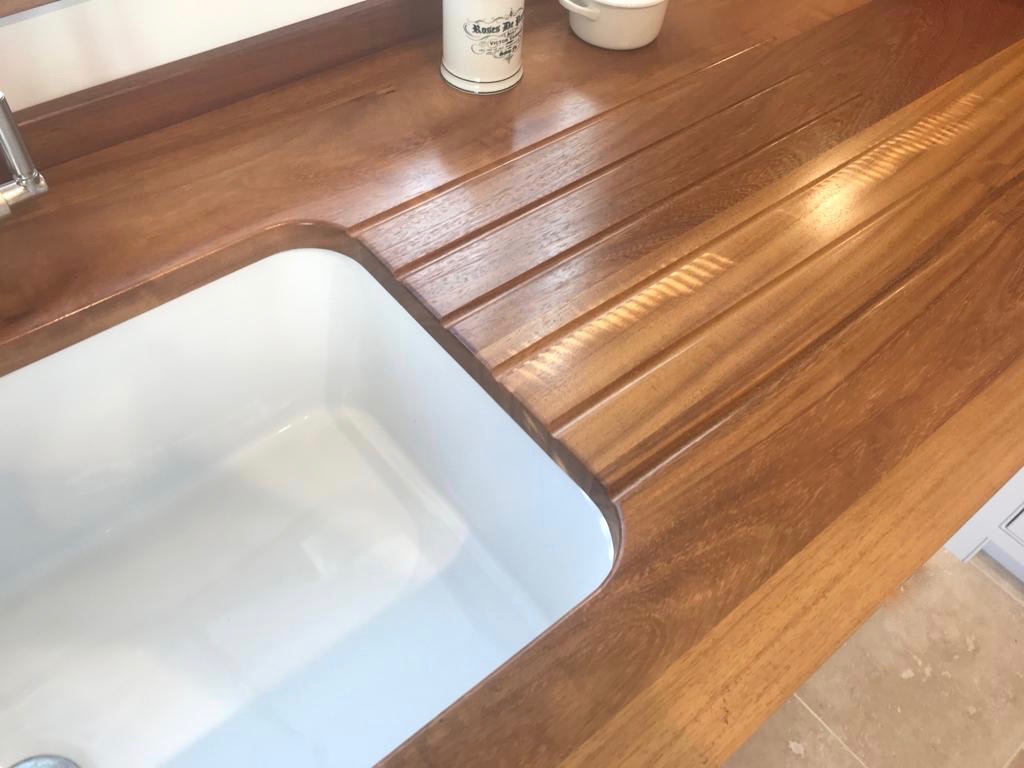 The Wood Nutshell
A natural and sustainable material that creates a warm atmosphere
Easily repaired and easy to shape into custom designs
Less expensive than stone or ceramic worktops
A small amount of regular maintenance is required to keep it in top quality
Ask your kitchen designer about the sustainability of the wood and where it is sourced
---
We would love to discuss your kitchen ideas with you!  You can get in touch by telephone on 01491 411 714, or stop into our Caversham shop and showroom at 11 Church Road, Caversham, Reading RG4 7AA.
Written and created by Sarah Mackay, Freelance Writer sarah@sarahmackaymedia.com
Photography by David Parmiter www.davidparmiter.co.uk
All kitchens  designed and created by Griggs & Mackay